2-Hour Quad Bike Trip in the South of Mauritius
98% Level of Satisfaction
Based on 1 review
| | |
| --- | --- |
| Location | South |
| Operating Days | All Days |
| Duration | 2 hrs |
| Activity Time | Flexible |
| Transportation | Offered as Supplement |
| Comment | This activity is offered at 09h00, 12h00 or 15h00 |
2-Hour Quad Bike Trip in the South of Mauritius
If you are a thrill-seeker and a nature lover, you will surely enjoy this exciting 2-hour quad biking adventure taking you through the unspoilt southern region of Mauritius.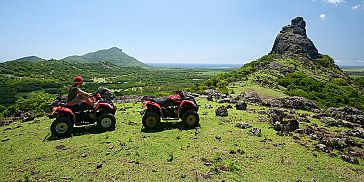 Specially designed for thrill-seekers and nature lovers, the 2-hour quad ride allows you to discover the South of the island in a fun way. As part of this package, you will get to enjoy a 2-hour quad biking adventure, where you can choose to ride alone or with a partner by sharing a double quad.
During the quad biking activity, you will be able to witness the beautiful flora and fauna of Mauritius while also riding along splendid landscapes, including extraordinary views of the island and its marvellous valleys, mountains and waterfalls.
---
About the 2-Hour Quad Bike Trip in the South of Mauritius
The South of Mauritius is famous for its untouched wilderness, small villages, nature reserves, high mountain peaks and for the many attractions it has to offer.The 2-hour quad ride will help you explore the most exotic and beautiful sites of the south, like the volcanic cliffs of Gris-Gris, La Roche qui Pleure, Rochester Falls and others.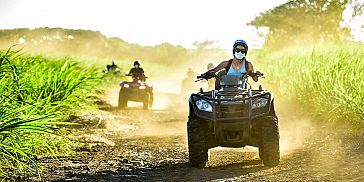 The appeal of Gris Gris lies in it scenery where the high cliffs drop abruptly to the sea. it offers visitors a magnificent view from the top- this is definitely a sight worth seeing. Further down the road from the Gris Gris Viewpoint is the 'Roche qui Pleure' (The Crying Rock), where if you look at the rock from the right angle, it will appear as a face with tears constantly streaming down, as the waves continually crash.
The iconic Rochester Falls is known as the widest waterfall in Mauritius. The majestic waterfalls are set in an isolated, wild and lush green area where you can find unique and dramatic cliff faces which have been transformed into jagged rectangular blocks by the force of powerful water over the past hundreds of years.
This 2-hour Quad Biking Trip in the South of Mauritius includes:
2-hour quad-biking activity on a single/double quad
Safety briefing and instructions
Scenic ride along the southern coasts, fields and forests
Visit to iconic sites such as La Roche qui Pleure and Rochester Falls
Experienced guides by your side during the duration of the trip
Equipment provided: helmets, masks
---
Itinerary of the 2-hour Quad Bike Trip- South of Mauritius
Savanne River
Gris-Gris volcanic cliffs
La Roche qui Pleure (The Crying Rock)
Terracine
Rochester Falls
Cheminée de Fontenelle
Back to Meeting Point
---
Additional Info - About the Quad Bikes
As part of this package, you will ride a 250cc Quad Bike.
The 250cc Quad Bike is great for beginners or youngsters who are interested in discovering the wilderness of Mauritius with a fun ride. They are equipped with automatic speed, which makes driving easier.
Single Quad & Double Quad: Kymco MXU 250
---
Comments
Location: South
Meeting Point: Union Ducray, Rivière des Anguilles
Operating Days: All Days
Duration: 2 hours
Activity Times: 09h00, 12h00 & 15h00
What to bring: suitable footwear (sports shoes or trainers only), spare clothes, sunglasses, sunscreen and mosquito repellent. Long trousers and long-sleeved tops are recommended.
Quad Restrictions
Double Quad:
Children between ages of 12 - 16 years old can drive the double quad and must be accompanied by an adult.
Children above the age of 6 can enjoy this activity alongside an adult on a double quad bike.
Single Quad:
Children as from 16 years old can drive the single quad upon their parent's authorization
Minimum height: 1m50
Health and Safety Restrictions
The quad bike tour is strictly forbidden for pregnant women.
No one under, or suspected of being under the influence of alcohol or drugs, will be allowed to take part in the ride.
All participants will be required to sign a disclaimer form prior to the activity.
Conditions
Required 48 hours in advance by phone and is subject to availability
This excursion/itinerary depends solely on climatic conditions. An alternate route or date will be proposed should the weather be unfavourable.
You are advised to arrive 15 minutes before your allocated start time. The start and finish times are fixed. The ride will still end at the allocated time, even if you arrived late.
If one or more members of the group are late, it will not be possible to incorporate them into the group after the briefing has started.
Proof of age will be requested if the instructor suspects that a participant is under age.
---
Prices
Single Quad: 72 Euros
Double Quad: 116 Euros (58 Euro/ participant)
Reviews
98% Level of Satisfaction
Based on 1 review
|
reviewed by Dhanwant Chouhan – United Kingdom
|
September 14, 2019
Reaction time to your queries and requests
Travel consultant's professionalism level
Added value given to you by the travel consultant
Consultant's knowledge of Mauritius and the products / services
Level of services provided as part of the activity?
Level of professionalism by activity operator staff / guide
Your level of enjoyment from the activity
Ease of booking the activity
Overall satisfaction from the activity
---