Exclusive Helicopter Tour & Lunch Break
84% Level of Satisfaction
Based on 1 review
| | |
| --- | --- |
| Location | All Regions |
| Operating Hours | 06:00 - 18:00 |
| Operating Days | All Days |
| Duration | 3 hrs |
| Activity Time | Flexible |
| Transportation | Offered as Supplement |
Operating Hours
06:00 - 18:00
Transportation
Offered as Supplement
Exclusive Helicopter Sightseeing Tour & Lunch Break - Overview
Hop aboard a private Helicopter and tour Mauritius in style. Enjoy the beautiful scenery of the island from above, away from the crowd, with an unobstructed view - no traffic, no hassle, no time wasted. Choose to see the iconic landmarks and landscapes of the island, depending on which helipad you choose to take off from. And since this tour is offered on a private basis, you can bring along your favourite person or people - the helicopter can accommodate up to 4 persons.
As part of this exclusive VIP package, you also get to dine and enjoy a luxurious gourmet lunch at one of the best hotel restaurants in Mauritius. Give yourself the VIP treatment you truly deserve and make it a memorable day, which will surely be one of the highlights of your holiday in Mauritius.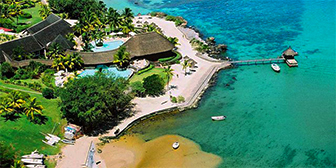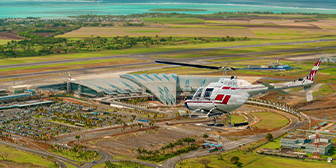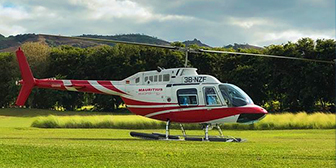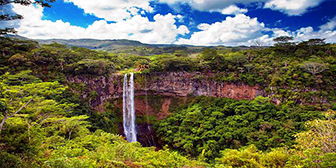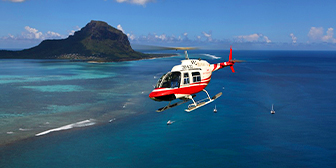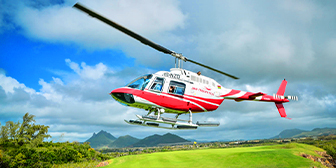 Highlights of this trip:
Enjoy an exclusive private helicopter tour over the Mauritian landscape
Tailor-made and fully customised flight course according to your wishes
A top class gourmet lunch from a selection of the best hotel restaurants (with a helipad)
Breathtaking sights of Mauritius' coastal area and beaches
View the deep, meandering valleys and the mountain range from the skies
An insight on the Mauritian history, geography and points of interest from the pilot
---
Exclusive Helicopter Sightseeing Tour & Lunch Break - Inclusions:
1 hour private helicopter sightseeing tour
Private flight for up to 4 pax in Bell Jet Ranger helicopter
Customise your itinerary depending on location and sites to see
Mesmerising sights and spectacular views
2 hours Gourmet Lunch Break at a hotel of your choice*
Trained and experienced helicopter pilots also your aerial tour guides
Fully equipped aircraft with safety equipment and measures
Optional (for a supplement): Pickup and drop from a helipad of your choice, including selected hotel helipads (see list of Helipads below)
*Note: Price of lunch is not included in the price of the helicopter flight and will depend on the restaurant and the lunch menu of your choice
List of Helipads - Mauritius
North Coast:
LUX* Grand Gaube Hotel
Royal Palm (hotel residents only)
East Coast:
St Geran Hotel
Constance Belle Mare Plage Hotel
Shangri-La's Le Touessrok Resort & Spa
Anahita (hotel residents only)
Ile aux Cerfs Golf Course
South Coast:
Le Paradis Hotel (hotel residents only)
Bel Ombre Golf Course (Heritage Hotel residents only)
Avalon Golf Course
Please note that some helipads have a landing fee which is to be paid on the day of the flight directly at the helipad.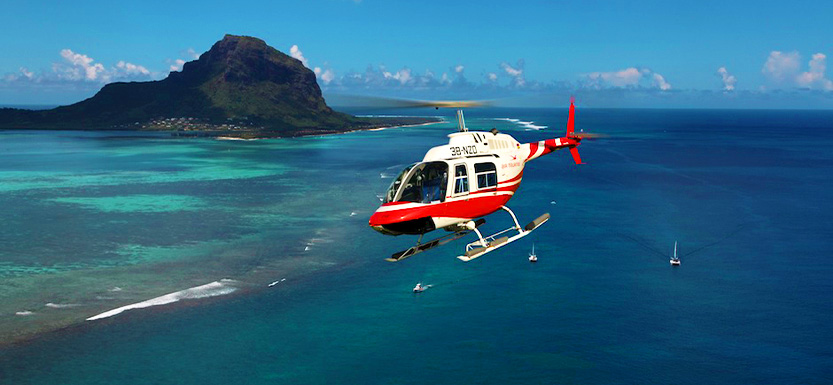 ---
Transportation & Driver Details
Transport is available for an additional supplement and will include pick up and drop off from any place / place of accommodation in Mauritius.
Car Capacities
You can choose from a selection of vehicles types:
Family Car - Up to 4 passengers
6 Seater vehicle - Up to 6 passengers
Minivan - Up to 10 passengers
About the Drivers
All drivers speak fluent English and French (Upon special request we can organise drivers who speak additional languages). The drivers, citizens of Mauritius, will be happy to provide you with information about Mauritius and each of its sights.
All drivers are very professional, time efficient and friendly. There is high emphasis on being always on time and providing reliable devoted service to customers.
---
| | |
| --- | --- |
| Operating hours: | 06:00 - 18:00 |
| Duration: | 3 hours |
| Operating Days: | Everyday |
---
Exclusive Helicopter Sightseeing Tour & Lunch Break
Get ready for a thrilling trip in the Mauritian skies. Depending on your bucket list, you can customise your itinerary so you could tick off a few attractions from the list of places to visit in Mauritius, without hassling over traffic.
This helicopter tour offers a panoramic view of the country from above, with its breathtaking silver-lined beaches, turquoise lagoons and fantastic coral islands. Experience a marvellous 1- hour sight-seeing tour across Mauritius aboard a private Bell Jet Ranger Helicopter, that can accommodate up to 4 persons.
You will be in safe hands with trained and experienced helicopter pilots also being your aerial tour guides, telling you more about the sites and some background info on Mauritius as you fly over the remarkable sites. And on the topic of safety, you don't need to worry since the helicopter is equipped with the best safety measures and equipment, ensuring a smooth trip in the air.
You will get the chance to witness the beauty of the island from high up and feast your eyes with enchanting sights of postcard-worthy transparent lagoons, undulating sugar cane fields, lush greenery and more spectacular scenic views.
If you've ever wished to make a sensational entry like the main characters of a movie, this is your exclusive chance! Make a heroic appearance at one of the deluxe restaurants of a luxury 5-star hotel in Mauritius (that's close to a helipad). Dine with elegance during your 2-hour lunch break and savour incredible flavours with the freshest taste.
Once you're done with your 5-star lunch experience, hop back on the helicopter, and head back to end the tour just as well as it started.
Some interesting sites and point interests to add to your itinerary:
Underwater Waterfall at Le Morne
Featured as one of the most spectacular geological formations in Mauritius, the Underwater Waterfall is an illusory waterfall which was formed due to the movement of sand and silt sediments under the influence of powerful underwater currents.
The Chamarel Coloured Earth and Waterfalls
The most visited tourist attraction in Mauritius with its unique and magnificent coloured earth, waterfalls and verdant forests as key features.
UNESCO World Heritage Site-Le Morne Brabant
The UNESCO World Heritage Site, Le Morne has a summit of 556 metres (1,824 ft) above sea level and has become the iconic attraction of Mauritius.
Notre Dame Auxiliatrice chapel – Cap Malheureux
Renowned for its bright red chapel, Cap Malheureux has a historical significance as it was here that the British invasion force defeated the French in 1810 colonial Mauritius.
Black River Gorges National Park
The national park is in the South-western part of Mauritius covering about 67.54 km², consisting of luxuriant and dried forests, splendid waterfalls and canyons.
Piton de la Petite Rivière Noire (Black River Peak)
Also known as The Black River Peak, it is the highest mountain in Mauritius offering incredible views at a height of 828m.
The Grand Bassin lake is considered a sacred place by the Hindu community in Mauritius where Hindu pantheons are venerated.
The dormant, volcanic crater is around 605 metres above sea level and is one of the most visited craters in Mauritius.
The most visited islet of Mauritius is engulfed by turquoise blue waters and caters for many adventurous sea activities.
Grand River South East Waterfall
The splendid Grand River South East Waterfall is one of the main tourist attractions in Mauritius. The waterfall fills the landscape with a dramatic look- a lush green sanctuary with cascading waterfalls.
The gigantic Pieter Both is the second highest mountain of Mauritius (820m) offering trekking trails for enthusiast climbers.
The thumb-shaped Mountain is the third highest mountain in Mauritius with a height of 812 metres.
Located some 8 km from the north coast of Mauritius, the Coin de Mire or the Gunner's Coin is a protected reserve which serves as a home to many sea-birds.
Mauritius Helipads
Helipads in Mauritius are dotted around the island, usually in the secure premises of a hotel or in an estate.
Please note that some helipads have a landing fee and vary. In such a case, you will have to cover the landing fees charged by the operator of the helipad. The landing fees are to be paid on the day of the flight directly at the helipad.
Mauritius Attractions can provide the transfer to the helipad closest to you at a supplement fee.
List of Mauritius helipads
Helicopter Services - List of Helipads
Region & Location
Particulars / Landing Fee
East Coast
1
St Geran Hotel
Hotel Residents free of charge
Landing fee applicable to non-residents - MUR 3,800 per flight
2
Constance Belle Mare Plage Hotel
Hotel Residents free of charge
Landing fee applicable to non-residents - MUR 1,900 per landing
3
Shangri-La's Le Touessrok Hotel
Hotel Residents free of charge
Landing fee applicable to Non-residents only – MUR 2,000 per flight
4
Anahita
Residents of Four Seasons & Anahita only
5
Ile aux Cerfs Golf Course
Free of Charge for clients having Lunch at the restaurant & playing Golf only
Landing fee applicable for other activities– MUR 1,000 per flight
South
6
Le Paradis Hotel
Hotel Residents only
7
Bel Ombre Golf Course
Residents of Heritage Le Telfair, Awali & Villas Valriche only
8
Avalon Golf Course
MUR 2,000 per flight
North
9
Royal Palm
Hotel Residents only
10
LUX* Grand Gaube Hotel
Hotel Residents free of charge
Landing fee applicable to non-residents - MUR 2,000 per flight
About The Helicopter
The five-place helicopter is the safest single engine helicopter in the world. It is a turbine engine powered helicopter. The helicopter is fast, comfortable, reliable and provides an unrivalled view. The fleet comprises a seating with a capacity of 4 passengers plus the pilot. A trained and experienced helicopter pilot, according to global safety standards, will guide you throughout your amazing trip.
Registration: 3B-NZD
Make: Bell
Model: 206 Jet Ranger
Lifting Capacity: 500 kg
Crew: 1 Pilot
Passenger Capacity: 4 passengers
Engine: 2 single engines (Bell jet Ranger 206BIII)
---
---
| Exclusive Helicopter Tour & Lunch Break | |
| --- | --- |
| Price for up to 4 People | 1820 Euros |
---
Booking Attributes
Reviews
84% Level of Satisfaction
Based on 1 review
|
reviewed by Corinne Levy – MK2018120049
|
May 13, 2019
Reaction time to your queries and requests
Travel consultant's professionalism level
Added value given to you by the travel consultant
Consultant's knowledge of Mauritius and the products / services
Overall satisfaction from the customer support service
Level of services provided as part of the activity?
Level of professionalism by activity operator staff / guide
Your level of enjoyment from the activity
Ease of booking the activity
Overall satisfaction from the activity
---