Fun Family Adventure at Domaine de Chazal
| | |
| --- | --- |
| Location | South |
| Minimum Age | 5 |
| Operating Hours | 09:00 - 17:00 |
| Operating Days | Weekdays Only |
| Duration | Flexible |
| Activity Time | Flexible |
| Transportation | Offered as Supplement |
| Comment | Note: The activity starts at 09:30 | Minimum 5 participants required for this package |
This Activity Is Not Operational Until Further Notice
Fun Family Adventure at Domaine de Chazal – Nature Discovery, Ziplining & Lunch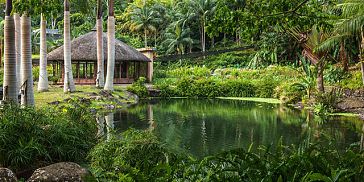 This is a great opportunity for nature lovers to discover Domaine de Chazal, a remarkable nature reserve in the South of Mauritius and explore the endemic flora and fauna. Enjoy a fun day out with the family at the nature reserve with delightful activities like zip lining, trekking in a protected nature reserve and a 4x4 Jeep trip through the park.
The Family Adventure Package at Domaine de Chazal is an invitation to get away from crowded beaches and simply enjoy being in the moment amongst the pristine nature of the island.
The Family Adventure Package at Domaine de Chazal includes
Ziplining Circuit of 6 ziplines (1h30 – 2hrs)
Endemic Nature Walk (1h – 1h30)
4x4 Jeep Trip (45 mins)
Lunch – Fried Rice Chazal Style & Water + Homemade Juice
Onsite Activities - Badminton, pétanque, tennis volley, volleyball, table tennis.
---
Additional Information about the Fun Family Adventure at Domaine de Chazal
The family adventure package starts from the Safari lodge at the Chazal reserve, which is nestled in a forested area with rugged paths, natural pools, a waterfall, and abundant tropical vegetation such as palms, banyan trees, and ferns.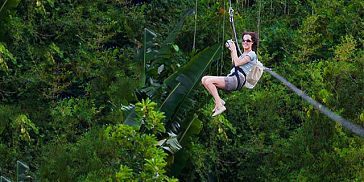 You will get to experience the thrill of whizzing across 6 ziplines and take in unrivalled, panoramic views of the nature park. Both children and adults will be pleasantly surprised with the adrenaline rush that comes with this wonderful zip lining experience. You will get to zip through a circuit of 6 lines with a total length of approximately 1.5 km. Each one varies in length and height, offering you the chance to discover the surrounding landscape from different angles.
After enjoying a bird's eye view of the nature reserve, you will set out for the endemic nature walk activity to explore the tropical forest on foot. As you pave your way through indigenous trees, endemic plants and beautiful wildflowers, you might also encounter wild deer and various other animals, including endangered endemic species.
The fun continues with a 4x4 Jeep trip to go off road and explore the Saint Romain Park, known for the vast landscape it is nestled in as well as for the number of animals that inhabit it. Surrounded by 2% of a native forest, it shelters a significant number of protected species and provides the best view of the 500-ft waterfall, known as 'Alexandra Falls'.
'Alexandra Falls' is without a doubt one of the most beautiful waterfalls on the island. Once you reach the top, you will have a breathtaking, panoramic view of the flora and fauna, as well as the surrounding villages.
As part of this package, you will also get an energy boost by enjoying lunch at the Chazal restaurant, located in the middle of the Domaine de Chazal nature reserve. The restaurant provides you with the opportunity to discover local gastronomy through a staple Mauritian dish, prepared with homegrown produce. You will also have the chance to enjoy fresh, homemade juice.
---
Comments
Minimum age: 5 years old
Minimum number of persons: 5
Note: No previous experience in zip lines is required.
Minors need to be accompanied by an adult
Participants must be physically capable in order to undertake the activity
What to bring: water, sunscreen, mosquito repellent, sports shoes and spare clothes
---
This Activity Is Not Operational Until Further Notice
Prices
Price per Participant: 46 Euros