LUX* Grand Gaube Day Package
| | |
| --- | --- |
| Location | North East |
| Operating Days | All Days |
| Duration | 7 hrs |
| Activity Time | 10:00 - 17:00 |
| Transportation | Offered as Supplement |
This Activity Is Not Operational Until Further Notice
A Relaxing Day Package at LUX* Grand Gaube
Enjoy a Relaxing Day Package at LUX* Grand Gaube in the North-East of Mauritius.
Amidst lush tropical gardens, LUX* Grand Gaube is enveloped by undulating coves, the calmest of lagoons and is blessed with two tranquil beaches and two spectacular swimming pools. Go on a global culinary journey through live cooking stations at The Palm Court, Peruvian and Argentinian cuisine at INTI, authentic Creole flavours at Banyan and a Turkish twist at Bodrum Blue.
This day package is an excellent opportunity for you to enjoy some precious moments in an idyllic setting with delectable cuisine, inspiring décor, and service-minded staffs.
About the Day Package at LUX* Grand Gaube:
There's something for everyone at LUX* Grand Gaube; access to the gym for fitness addicts, access to hammam and sauna along with access to the hotel's pool for leisure seekers.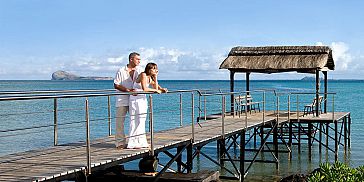 You can also make the most of your time at the hotel by indulging yourself with the selection of complimentary water activities. Try windsurfing or have fun with an engaging paddle boat session with your partner or friends.
Throughout the day, sample delicious dishes and refreshing cocktails from the hotel's excellent range of 6 restaurants and 7 bars. From fun, casual dining to sophisticated – LUX* Grand Gaube invites you to spend your day doing as much or as little as the mood takes you, pause for lunch and afternoon coffee and indulge your taste buds.
This hotel day package at LUX* Grand Gaube is an invitation for you to indulge yourself in good company, so bring along your family, friends or colleagues and have a great time together!
The Day Package at LUX* Grand Gaube includes:
Welcome drink & cold towel
After 2 p.m. access to Sauna & Hammam (only with treatment)
Access to all hotel facilities
Usage of non-motorised water activities - windsurf/ kayak/ paddle boat
Use of pool & beach with towel service
Complimentary WiFi
Note: Banyan Area is Adults-only (16+)
---
LUX* Grand Gaube – Lunch Options
Light, fresh and delicious, LUX* Grand Gaube restaurants offer a series of flavoursome, immersive theatrical food and drink experiences - where you can choose exactly the menu, you're in the mood for with a new setting for each sitting.
Beach Rouge Restaurant & Bar
Beach restaurant and lounge offering informal drinking and dining, easy lounging and the definitive soundtrack to your holiday.
A la Carte - 64 Seats (12:30 - 15:00)
Bodrum Blue Restaurant & Bar
Expect a Turkish twist with panoramic vistas overlooking the Indian Ocean.
A la Carte - 60 Seats (12:30 - 15:00)
Banyan
Located in the adult only zone of the hotel this ancient banyan tree provides the backdrop of an irresistible combination of dining experiences including:
Creole Smokehouse - A la carte restaurant - 54 Seats (12:30 - 15:00)
BB'S - The Banyan Burger Shack, with one side catering for families. (12:30 - 17:00)
French Kiss Bar – A quirky, restored classic Citroen H van to quench your thirst. (10:30 - 18:00)
Optional Facilities at LUX* Grand Gaube Hotel
Extend your stay with dinner & evening entertainment! If you don't feel like cutting this wonderful experience short and you would like to spend more time in amazing company and a wonderful setting, we have the immense pleasure of offering you the opportunity to extend your time at the hotel with a fun evening entertainment program.
Day Room Use. For utmost relaxation in a private and quiet setting, opt for the room day-use supplement. The interiors of LUX* Grand Gaube are the pioneering vision of award-winning designer Kelly Hoppen. Keeping true to her core values of simplicity and timeless elegance - an eclectic series of generously proportioned rooms are deliciously retro-chic in style, and deliver a real sense of residential beach house living. All are designed for extreme comfort and to offer you the best sleep you've ever had.
Comments
What to bring: We suggest bringing hats, extra sun block cream for sun protection, cameras, and swimsuits.
Note: The Banyan area is exclusively reserved for adults (16+)
About LUX* Grand Gaube Hotel
A romantic hideaway awaits beneath gently swaying palm trees at a luxury resort in Mauritius – LUX* Grand Gaube.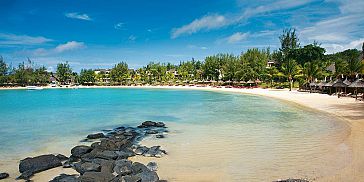 A gentle walk from a quiet fishing village on the north coast of Mauritius, LUX* Grand Gaube lies in one of the island's most beautiful locations, a calm retreat where every room, suite and villa features spectacular ocean views.
Protected from the winds and blessed with three filao-framed bays, the hotel faces a crystal clear lagoon and attractive castaway islets waiting just off the coast.
Besides its delicate gardens, idyllic LUX* Me Spa, five swimming pools, water sports galore, and nearby world-class golf course, the hotel boasts the only resort cinema in Mauritius. Local musicians and dancers will accompany you whilst you dine at one of its five restaurants serving island-inspired and international dishes, capturing perfectly the romance and rhythm of island life—you will compel yourself to dance with them!
Inspired by authentic local living styles, each of the six room types at LUX* Grand Gaube has been designed to reflect the colorful energy and lively ambiance of the little paradise. Vibrant décor, well-planned design and careful positioning amongst the island's surrounds ensure a harmonious atmosphere. All privately-located villas and suites are sumptuously furnished, overlooking the triple-bay beaches, lagoon and spectacular north islets.
Take a break in one of the most luxury hotels in Mauritius – LUX* Grand Gaube: this is island life at its most romantic and joyful.
---
Prices
Price for the Relaxing Day Package at LUX* Grand Gaube: 98 Euro
Price for Day Room Use (Optional): 70 Euro
Price for the Dinner (Optional): 40 Euro
This Activity Is Not Operational Until Further Notice