Safari Quad Biking
96% Level of Satisfaction
Based on 6 reviews
| | |
| --- | --- |
| Location | West |
| Minimum Age | 12 |
| Operating Hours | 09:00 - 17:00 |
| Operating Days | All Days |
| Duration | 1 hrs |
| Activity Time | 09:00 - 16:00 |
| Transportation | Offered as Supplement |
| Comment | The park is open daily from 9am to 5pm, except on Saturdays until 9pm for Casela By Night | Can choose either Single or Double Quad bike. | Activity Time: 09:00 , 10:15 , 11:30, 12:45, 14:00, 15:15 & 16:00 |
Safari Quad Biking Adventure in Mauritius
Experience an adventurous Quad biking activity in the most amazing natural setting!
One hour of a quad-biking excursion in the 4,500 hectares of Yemen natural reserve park.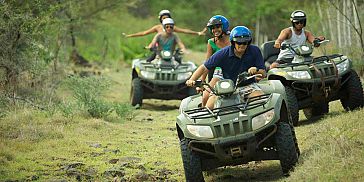 The activity takes place in Yemen natural reserve park, located on the West Coast of Mauritius. It hosts two of the longest rivers on the island – Rivière Rempart and Tamarin River. The natural reserve is around 4500 hectares and today, it is a private domain and a haven for all sorts of native wildlife which can be admired.
The Yemen Nature Reserve is home to herds of Java deers (around 9,000), wild boars, hares, macaque monkeys, mongoose and fruit bats. Abundant indigenous and exotic plants such as ebony, cassias, tamarind, pink pepper and many more are also found in this amazing natural reserve.
A visit to the Yemen Reserve is like stepping into the middle of the African Savannah.
The Activity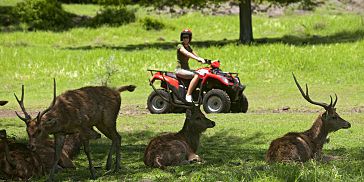 One hour of intense fun to appreciate the exclusivity and the charm that prevails in the reserve. More than a quad bike outing, it is a trip through a real safari. During the quad biking trip it is possible to see deers, zebras, ostriches, African antelopes, wild boars and many more. This a great added bonus to this quad bike activity.
You can enjoy this amazing experience in Mauritius individually or together with your partner by sharing a double quad. You have a choice between single-seat quad for 1 person and double– seat quad, ideal for 2 people.
Children above the age of 12 can enjoy this quad biking activity alongside an adult on a double quad bike.
The quad biking trip allows one to discover the safari park in Mauritius whilst observing the wild animals in their habitat. You drive in a group led by experienced guides. After a last checking of this four-wheel drive, it takes a few minutes to initiate the quad drive. The course takes you up the park heels, down some valley, across rivers and all while enjoying the great surrounding.
---
Comments
Activity Time: 09h00 | 10h15 | 11h30 | 12h45 | 14h00 | 15h15 | 16h00
Duration of the quad biking activity: 1 hour
You have to be 16 years old and above to drive a quad.
Children above the age of 12 and a height of at least 1m35 can enjoy this activity alongside an adult on a double quad bike.
An initiation circuit is compulsory for the guides to evaluate the driving capacity of each client before starting the activity.
Quad bikes Brands: Bombardier 400 cc automatic or Arctic Cat 500 cc automatic
---
Exclusive Safari Quad Biking (Optional)
For those of you who want to enjoy the Safari Quad with more privacy at your own pace, we recommend the Exclusive Safari Quad Biking
The Exclusive Quad Biking guarantees you personal guidance from the accompanying guide, ride in your own pace with no rush or being delayed by others!
Some of the benefits of having the Exclusive Safari Quad Biking are:
Having a personal guide only for you and your quad partner.
Benefit from maximum flexibility in the quad riding pace
You can decide when to take break, stop for a photo or enjoy more time in any of the viewpoints
Enjoy a one-on-one encounter with the various animals during your activity such as the zebras, tortoises, deers and many more.
Included in the package: 1 hour Private Safari Quad ride and personal Guide
---
Visit of the Casela Nature Park – World of Adventures
Important: The Quad Biking is done at the Yemen Reserve which is part of the ''Casela World of Adventures''. Accordingly, we offer you to purchase the Quad Biking together with the entry tickets to the park.
About the Casela World of Adventures: The Mauritius Casela Park is a real nature and adventure park. It is located besides the Rempart Mountain on the South-West of Mauritius offering magnificent views of the countryside rolling down the west coast of Mauritius.
The visit to the park includes:
Toboggan (Avalanche Mines) - a thrilling fun ride on the first toboggan slide in Mauritius. The Toboggan includes two slides placed on a slope on which one slips with buoys.
Tulawaka Gold Coaster – an adrenaline-inducing alpine coaster that runs along 800m. Perfect for all thrill seekers. It can be ridden solo or in tandem.
Walk thru the aviary - Walk through the bird aviary and interact with various colorful bird species from around the world.
Safari photo - This great value tour lets you find yourself face-to-face with zebras, ostriches, deer, African antelopes, white rhinoceros, impalas and kudus during a unique safari tour on-board one of the safari vehicles.
Big Cats Kingdom - For Big Cats lovers, this is a dream come true! Visit the Big Cats' park to enjoy a close view of the lions, caracal and tigers.
Giraffe and pygmy hippo viewing - Come face to face with these majestic animals for a unique viewing experience.
Camel and llama viewing - Meet the camels and llamas, considered as one of the friendliest and most loving animals you will ever meet. Spend some time getting to know these amazing creatures.
Monkey Kingdom - have some fun watching the long-tailed monkeys skip and hop about, in their enriched, natural habitat.
Kid's playground - A new kid's playground that will offer sensation to the young ones!
Petting farm and Tortoise pen - Ideal setting for people of all ages, especially children to interact with farm animals as well as tortoises.
3D Interactive Map and 4D Cinema
Comments
Tulawaka Gold Coaster: Riders can go solo as from 12 years old (minimum height 1m40) or in tandem. Those under 4 years old should be accompanied by an adult
Additional activities offered at the Park
Walk with Lions & Tigers
Zip Lines Excursion
Price
Price for Single quad – 1 person on each quad: 89 Euro
Price for Double quad – 2 persons on each quad: 135 Euro
Visit of the Mauritius Safari and Bird Park: 17 Euro / person
Price Supplement (one-time fee) for the Private Safari Quad Biking: 110 Euro (Optional)
Reviews
96% Level of Satisfaction
Based on 6 reviews
|
reviewed by Naman Saeed – United Kingdom
|
June 11, 2019
Reaction time to your queries and requests
Travel consultant's professionalism level
Added value given to you by the travel consultant
Consultant's knowledge of Mauritius and the products / services
Overall satisfaction from the customer support service
Level of services provided as part of the activity?
Level of professionalism by activity operator staff / guide
Your level of enjoyment from the activity
Ease of booking the activity
Overall satisfaction from the activity
---
|
reviewed by Maria Fox – Virgin Islands (U.S.)
|
November 12, 2017
Reaction time to your queries and requests
Travel consultant's professionalism level
---
|
reviewed by Mark Jones – United Kingdom
|
September 17, 2017
Individual tour guide for quad tour was excellent
---