Zookeeper for a Day Kids Package at Casela Park
| | |
| --- | --- |
| Location | West |
| Minimum Age | 8 |
| Operating Hours | 09:00 - 17:00 |
| Operating Days | All Days |
| Duration | 4 hrs 30 mins |
| Activity Time | 08:30 - 13:00 |
| Transportation | Offered as Supplement |
| Comment | The park is open daily from 9am to 5pm, except on Saturdays until 9pm for Casela By Night | This Excursion is offered to children aged 8 – 14 years during Saturdays and on special occasions. Please enter the name of each participant as well as their resp |
Zookeeper for a Day - Kids Package at Casela Park
It is no secret that kids love to play pretend. And kids love animals. This is their calling - for one whole day, they will have the opportunity to actually be a zookeeper! This is their chance to peek into the lives of an animal keeper in a zoo at Casela Nature Parks.
Join the only Safari and Bird Park in Mauritius and give your child the unique chance to go behind the scenes as a real zookeeper. We know how hard it is to entertain children when boring playground activities no longer do the trick. At Casela Nature Parks, parents will not have to worry as the unique Zookeeper for a Day activity will surely keep the children busy, happy for hours and create wonderful memories for life!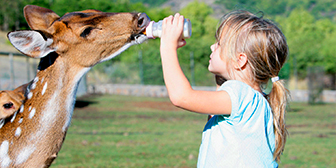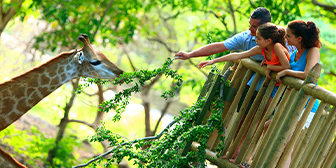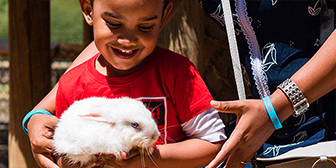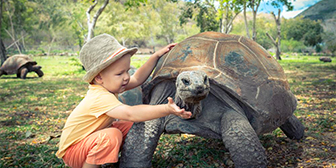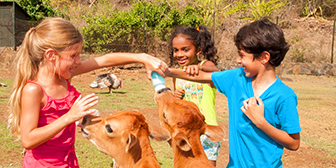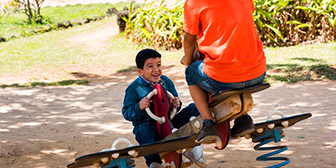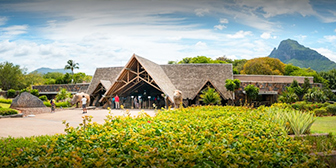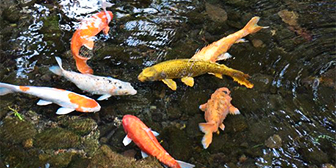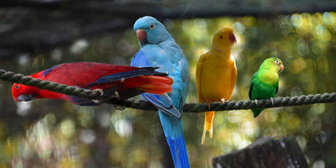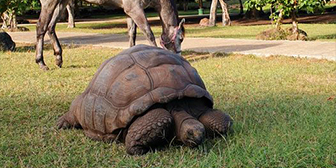 Jam-packed 5-hour day full of fun animal activities
Perfect for the young ones to learn about the animals and get closer to nature
Specially tailored activities for kids to have fun and interact with different animals
Teach children about the protection of biodiversity and the work it takes to care for these species
This activity is led by a friendly and experienced zookeeper - your kids are in safe hands
---
As part of this Zookeeper for a Day package, you will participate in up to 3 of the below activities (depend on the age and number of children on the day):
Petting farm: Feeding of animals with feeding bottles (calves, goats, sheep, fawns etc.), cleaning, distribution of food, brush or wash some animals
Giraffes: Release from night pen, cleaning of their enclosure and feeding
(1 bag of feed and 1 bottle of milk is offered)
Aldabra giant tortoises: Cleaning of the shells and distribution of food
Distribution of food for the koi carps and observation of some species by using technical sheets
Distribution of food, observation and counting of Pink flamingos
Distribution of food and cleaning in aviaries
Preparation and distribution of food for birds & monkeys
Lunch and Snacks are included
Refreshments will be available
Important: The Zookeeper for a Day Activity is offered to Kids only (4 - 12 years old). Entrance tickets are not included for accompanying adults. Accordingly, we offer you to purchase the Zookeeper for a Day package together with the entry tickets to the park.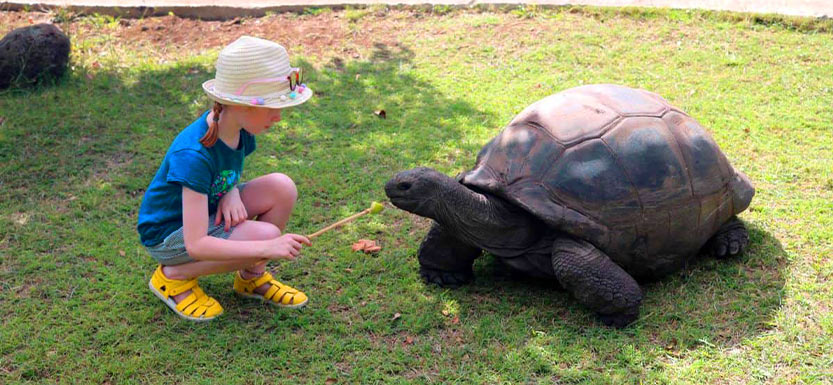 ---
Transportation & Driver Details
Transport is available for an additional supplement and will include pick up and drop off from any hotel / place of accommodation in Mauritius.
Car Capacities
You can choose from a selection of vehicles types:
Family Car - Up to 4 passengers
6 Seater vehicle - Up to 6 passengers
Minivan - Up to 10 passengers
About the Drivers
All drivers speak fluent English and French (Upon special request we can organize drivers who speak additional languages). The drivers, citizens of Mauritius, will be happy to provide you with information about Mauritius and each of its sights.
All drivers are very professional, time efficient and friendly. There is high emphasis on being always on time and providing reliable devoted service to customers.
---
Casela Nature Parks, West Region
| | |
| --- | --- |
| Start & End times: | 08:45 - 13:45. |
| Duration of the Zookeeper activity: | 5 hours |
| | The zookeeper activity are offered only on Saturdays and on special occasions (school holidays) |
| | You are requested to reach at least 20 minutes prior to the start of the activity. |
| | The park is open daily from 9am to 5pm, except on Saturdays until 9pm for Casela By Night (Pangia Rides,Tulawaka Gold Coaster & Wamwam Restaurant). |
| | The park will be closed on 25th December and 1st January. |
---
Day Program of the Zookeeper Kids Package
08:30 - Meet at the entrance of "Casela Nature Park" + Filling and signing the consent form
08:45 - Welcome and presentation of the park + Safety rules + Distribution of a "Zookeeper" T -Shirt
09:00 - Activities in the park*
10:00 - 10:30 - Snack break
10:30 - 12:00 - Continue with the activities*
12:00 - Lunch break + Summary of the day (knowledge acquired, emotions felt, etc)
13:45 - Group Photo + End of the activity and return to the park entrance
Note: Times of activities are subject to change. During the activities, refreshments will be available.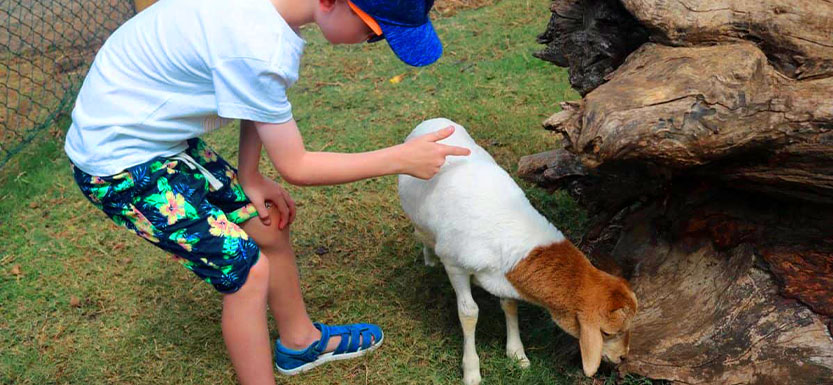 ---
Zookeeper for a Day - Kids Package at Casela Nature Parks
It is hard to please everyone on a family holiday, especially kids!
At Casela Nature Parks, parents will not have to worry as the unique Zookeeper for a Day activity will surely keep the children busy and happy for hours. This activity promises to make kids enjoy a day full of fun activities with animals while educating them about the different ways of caring and protecting animals.
This is very much a hands-on experience which will give the children an insight into the amazing amount of work that goes on behind the scenes at Mauritius only Safari and Bird Park.
Welcoming little Zookeeper - On arrival at Casela Nature Park, you will be warmly greeted by the staff members, followed by a presentation on the park by your zookeeper host of the day. The latter will also provide you with a briefing on the day's activities and on the essential safety rules. You will also be presented with a T -Shirt entitled "Zookeeper" which you will wear during the day and be more inspired in the shoes of a zookeeper.
A Day in the Life - Throughout the entire day, the little ones will be busy having direct encounters with the friendly animals of the park and taking care of these fuzzy friends. From food preparation to distribution and observation of animals, this enriching programme teaches them how to care for animals whilst spending time in a biodiverse environment.
Need a break? Take a pause and replenish your energy with a light snack which consists of a cereal bar and water. After a busy morning getting up close with wildlife, budding zookeepers can enjoy a tasty lunch - a choice of chicken or beef burger and water or juice - served between 12:00 to 13:00. Wrap up your day with a summary of your experience and a group photo session as a special reminder of your enriching day.
This day package is all about discovering the amazing African Savannah of Mauritius in a unique way. You will leave with lots of interesting, new knowledge and memories to cherish forever.
Visit of the Casela Nature Park - World of Adventures
About the Casela Nature Park: Located beside the Rempart Mountain on the South-West of Mauritius, the Mauritius Casela Nature Park stays true to being a real nature and adventure park. Along with plenty of activities and attractions for all ages, that park also offers magnificent views of the countryside, rolling down the west coast of Mauritius.
Entrance ticket includes:
African Safari: Get a taste of Africa in Mauritius with a unique chance to encounter antelopes, white rhinos, zebras and ostriches. Immerse yourself in the wild in the company of Kudus, Impalas, Oryx, Nyalas, and Waterbucks, just to name a few. The African reserve is of extraordinary scenic beauty with the iconic Rempart Mountain serving as a backdrop.
Visit Birds Paradise Park - Walk thru the aviary - Get ready to be fascinated when visiting the Bird Paradise. Walk through the bird aviary to discover various colorful bird species from all around the world.
Animal viewing - Giraffe, camel, pygmy hippo, llama viewing - Among the many animals in the park, you will get to see giraffes and pygmy hippos for a unique viewing experience. Meet the camels and llamas, considered as one of the friendliest and most loving animals you will ever meet. Spend some time getting to know these amazing creatures.
Petting farm and Tortoise pen - Be sure to stop by the Petting farm and Tortoise pen, the ideal setting for people of all ages, especially children to interact with farm animals as well as tortoises.
Access to Pangia Kid's Park - The new Pangia Kid's Park boasts a children's playground that will offer fun to the young ones! Make sure to bring along the little ones to let them have their fair share of fun!
Visit Predator Kingdom (Big Cats Kingdom) - For Big Cat lovers, this is a dream come true! Visit the Predator Kingdom to enjoy a close view of the big cats such as the roaring lions, the magnificent caracals and the majestic tigers.
One Ride on the Tulawaka Gold Coaster - The perfect ride for thrill seekers, a unique summer luge running on a 760m track including a cable lift hill, vertiginous descents and bends while offering thrill-seekers an exciting ride with a breathtaking view of the west coast of Mauritius!
Additional Info about Casela Nature Parks
The park includes several thematic worlds, as well as a hub for discovery and learning.
African Safari: Get a taste of Africa in Mauritius with a unique chance to encounter antelopes, white rhinos, zebras and ostriches. Immerse yourself in the wild in the company of Kudus, Impalas, Oryx, Nyalas, and Waterbucks, just to name a few. The African reserve is of extraordinary scenic beauty with the iconic Rempart Mountain serving as a backdrop. Casela Nature Parks offers several fun ways to get closer to animals of the African Safari: choose between our zebra bus or the safari Quad.
Predator Kingdom: At the Predator Kingdom, Safari adventures brings you the best of the Big Cats experiences in Mauritius. This is a unique opportunity for visitors to have once in a lifetime experience. Big Cats encounters include: walking with lions, interaction with cheetah, caracal and serval, and the drive-thru to see tigers and lions in their natural habitat.
Thrill Mountain: Thrill Mountain at Casela combines all the mountain and rope activities for thrill-seekers. Jump from a 40m platform into the canyon with the Canyon Swing, zip across breath-taking scenic valleys with plenty of Ziplines, walk on our spectacular Nepalese Bridge, and for the more adventurous: hiking and mountain climbing on the Via Ferrata.
Birds & Rides: A range of rides, activities and attractions to suit all ages. The Tulawaka Gold Coaster for thrill seekers, slide on a Buoy into the air with a Toboggan Ride, awaken your senses with the 4D Cinema, and discover the most impressive bird species in Mauritius with the Aviary.
Pangia Kids Park: Pangia Kids Park is a brand new world, full of fun, located in the heart of Casela! Come and experience family time like never before with the Monkey Swing, the Dino Ride, the Mushroom Vortex, the Carousel and so many more! The kids will also become little chefs at the Wamwam restaurant.
(All activities and attractions which are not included in this package are pay-as-you-go)
Additional activities offered at the Park
---
Shorts/ pants recommended

Sport shoes

Caps

Sunscreen

Boots and raincoats (depending on weather conditions)

Long hair must be tied

Small backpack for your personal belongings
---
| | |
| --- | --- |
| Zookeeper for a Day Package (ages 4-12): | 59 Euros / Participant |
---