Deep Sea Fishing At Le Morne - 40ft Boat - Full Day
| | |
| --- | --- |
| Location | South West |
| Minimum Age | 4 |
| Operating Days | All Days |
| Duration | 8 hrs |
| Activity Time | 07:00 - 15:00 |
| Transportation | Offered as Supplement |
| Comment | Maximum of 7 passengers, preferably no more than 3 anglers |
Activity Time
07:00 - 15:00
Transportation
Offered as Supplement
Comment
Maximum of 7 passengers, preferably no more than 3 anglers
Deep Sea Fishing on a 40ft Boat At Le Morne - Full Day - Overview
A Full Day activity of adventure and fun on a 40 feet fishing boat! Spend 8 hours at sea, cruising the northern coast, admiring the scenery and reeling in your next big catch. The waters off the south west coast of Mauritius offer big game fish such as Skipjack tuna, Yellow fin tuna, Wahoo, Dorado, Sailfish, Sharks, Blue & Black marlin - a fisher's paradise!
More to that, exclusivity is guaranteed with this private fishing trip, ideal for 3 anglers and can accommodate up to 8 passengers. This activity will make sure anglers feel privileged to have the infinite blue sea to themselves, and all the time in the world to make their dreams of the perfect catch come true.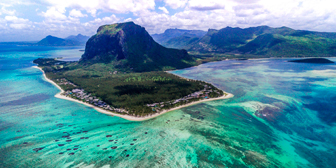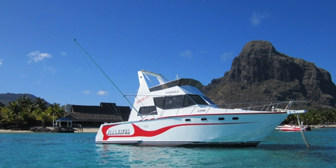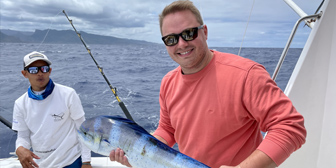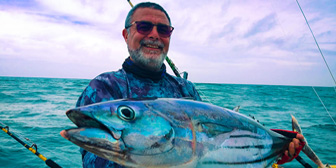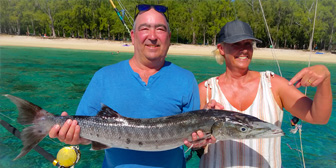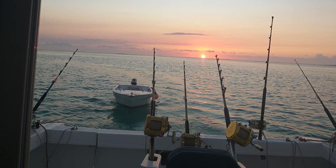 Highlights of this activity:
Spend an unforgettable voyage off the South West Coast of Mauritius
Perfect place to bring those eager for a trophy catch
Sail far into the deep sea and seek some really big catches plus
With some luck you may also encounter dolphins
Great activity for non-fishers alike - enjoy a day of sailing and fun
Witness unique displays by Mother Nature's creatures as well as impressive sceneries
---
Full Day Deep Sea Fishing At Le Morne - 40ft Boat - Inclusions
Full Day Deep Sea Fishing Boat Trip
Exclusive Trip - 8 passengers boat (no more that 3 anglers)
Opportunity to cruise inside the Tamarin Bay and see dolphins
Shower and toilet on board
Soft drinks and mineral water are included
Fishing equipment provided
Safety equipment onboard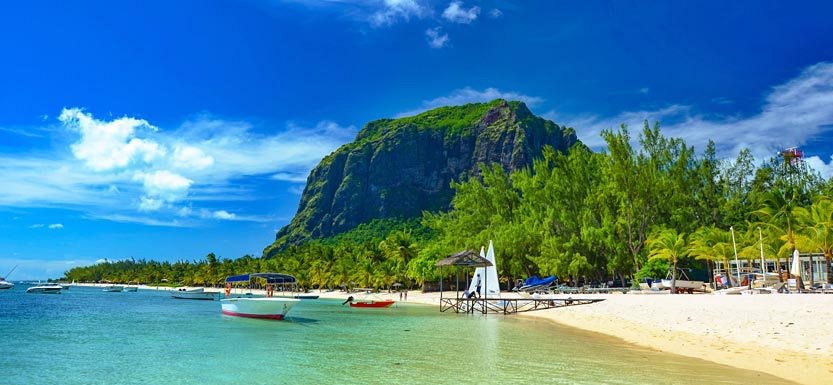 ---
Transportation & Driver Details
Transport is available for an additional supplement and will include pick up and drop off from any place / place of accommodation in Mauritius.
Car Capacities
You can choose from a selection of vehicles types:
Family Car - Up to 4 passengers
6 Seater vehicle - Up to 6 passengers
Minivan - Up to 10 passengers
About the Drivers
All drivers speak fluent English and French (Upon special request we can organize drivers who speak additional languages). The drivers, citizens of Mauritius, will be happy to provide you with information about Mauritius and each of its sights.
All drivers are very professional, time efficient and friendly. There is high emphasis on being always on time and providing reliable devoted service to customers.
---
Le Morne, South West Region
| | |
| --- | --- |
| Duration: | 8 hours |
| Operating Days: | Monday to Sunday |
| Departure time: | 07:00 |
| Return time: | 15:00 |
---
About the Big Game fishing trip from Le Morne - 40 ft boat – Full Day - Mauritius South West Coast
Come and enjoy the Exclusive Full Day Deep Sea Fishing on a 40ft boat which is ideal for 8 people, but preferably no more than 3 anglers. Experience the exhilaration reeling in your catch after a memorable battle: Man against Nature.
As the ocean floor drops to depths exceeding 3000 m an easy ride, cruising in maximum comfort onboard the boat, you reach the areas of open sea supporting the rich marine biodiversity that attracts anglers from all over the world. No matter if you are a complete novice or an accomplished professional sport fisherman, this fishing trip guarantees excitement and pleasure.
As this is a full day trip, you will have plenty of time to reach far into the deep sea and seek for the really big catches such as the giant Blue Marlin or even catch.
Also, the region of the South West of Mauritius is the home of groups of dolphins and as part of this full day fishing trip you will have the opportunity to cruise inside the Tamarin Bay seeing and even swimming alongside dolphins.
With some luck you may also encounter the fascinating Sperm Whales which are found year round off the west coast of Mauritius.
The experienced crews combine their skills to set up the perfect lines, best suited to that day's fishing conditions.the boats are excellently equipped for your adventure.
The boat crew is incentivized to catch fish so you can be sure they're doing their very best to get The Big One on the line. It's up to you to bring it in!
For your lunch break, you can opt for a light meal including sandwiches while you fish. This will allow you to enjoy your fishing activity with no interruptions. If you opt for the BBQ lunch, however, the activity will be interrupted and fishing time will be reduced.
Deep Sea/ Big Game Fishing in Mauritius
Mauritius is very famous for deep sea fishing which has been practised by the locals for many years. With perfect conditions prevailing throughout the year, the possibilities to fight giant Blue Marlin, Black marlin, Mako sharks, Tuna and many other exciting fish are made available to experienced anglers and beginners.
Mauritius holds several world fishing records (IGFA), including that of the mako shark of 1115 pounds, the blue shark of 400 pounds, a bonito of 41.5 pounds, a white tuna of 224 pounds and a 'bécune' of 125 pounds.
The famous Blue marlin's enormous size and legendary fighting ability makes it one of the most highly targeted gamefish in the world. These true giants are top of the food chain. They lurk in the waters surrounding Mauritius, waiting to pounce on an unsuspecting tuna or a lure bubbling and splashing behind a boat. They are generally loners and put on a spectacular battle when hooked, jumping all over the surface while also staying under and fighting down and dirty. Battle's with these monsters can last well over three hours; the longest fight in Mauritius was twenty six hours before the line broke!
With its rich marine fauna, Mauritius is revered by Deep Sea Fishing enthusiasts worldwide.
Come and discover firsthand the roar of the inboard Caterpillar engines, and the screech of tightly stretched lines when a marlin or other game fish has struck the kona, is a pulse-racing experience!
Deep Sea Fishing in the South West of Mauritius (Le Morne region)
While at sea, keep your eyes alert to stand the chance of witnessing unique displays by Mother Nature's creatures. The South West Coast of Mauritius is a big-fish Mecca where all the action happens. Where else can you expect to strike any six of the seven billfish such as Blue Marlin, Black Marlin, Striped Marlin, Spearfish, Swordfish, Sailfish and possibly also catch shark, Wahoo, Dorado, Tuna, and Bonito, all on the same day?
About the Fishing Boat
The fishing boat is an ideal all-day cruising vessel that also endures heavy weather with ease. It is 40 feet in length with 2 inboard Perkins Sabre engines of 130HP each.
The maximum boat capacity is 8 people, who can enjoy a most comfortable outing onboard.
The main deck is spacious to effortlessly fit your prize catch and also offers seating on the flybridge for elevated views of the striking surroundings. Just relax and take it all in!
Boat size: 12.5m x 3.6m (40 feet)
Navigation equipment: Garmin GPS, compass
Communication equipment: VHF Radio, cell phone
Safety equipment: 10 life jackets, 2 life buoys, medical box, fire extinguishers, anchor, automatic and manual water pump
Fishing equipment: Penn International reels (typically a selection of 130 lbs, 80 lbs and 50 lbs), harness, bucket, gaff, flying gaff, fighting chair and wide choice of lures and exciters. Optional jigging equipment available.
Other equipment: fresh water tank and pump, toilet, berth, cool box, binoculars and CD player Should you have any particular preferences regarding reels or the fishing line's breaking strain, please advise beforehand as there is a large stock of equipment from which to draw. The team is passionate about fishing and can easily cater for the most fanatical of anglers who wish to do nothing but fish from sunup to sundown. Prior notice is needed to prepare all that you request.
Included in the full day Deep Sea Fishing activity are complimentary beverages.
---
Hats

Tshirts

Spare clothes

Extra sun block cream for sun protection

Camera

Swimsuits

Towels
---
Full Day Deep Sea Fishing At Le Morne - 40ft Boat - Menu
---
| Deep Sea Fishing on a 40ft Boat At Le Morne - Full Day | |
| --- | --- |
| Price for 8 Passengers - 40ft boat - Full Day | 625 Euros |
| lunch | 20 Euros / Pax |
---
Booking Attributes